No doubt about it, folks are absolutely LOVING the SiteSell Presents Summer Series!
Audience Comments.....
** My best take-away from Guy Kawasaki is to empower people... and yeah, Canva! And from Mia Voss, what lights you up? 45 minutes very well spent. Thanks SiteSell. - Glenys Morgan
** Gold: "Not doing Social. Being Social" Kenneth Manesse Sr. - Stephen Crewson
** Fantastic show Mike Allton, you did it again! Forwarded your show link as I was watching because it was that great! Having Wade Harman, Kevan Lee and Demian Farnworth was awesome. Learned so much. Can't wait for next Monday. - Karen V. Chin
Hope you and your audience feel the same as Glenys, Stephen, Karen and the hundreds of others who watched the first two shows. These events are excellent examples of the kinds of valuable resources and information people have come to expect from SiteSell.
And SiteSell CMO, Mike Allton, will be back on Monday, July 20th, to host the 3rd "SiteSell Presents" show about Social Media Marketing.
Monday, July 20th
12:00 Noon EDT
Topic: Social Media
Guests: Jeff Sieh, Dustin W. Stout and Rebekah Radice
Event Link: CLICK HERE
YouTube Link: CLICK HERE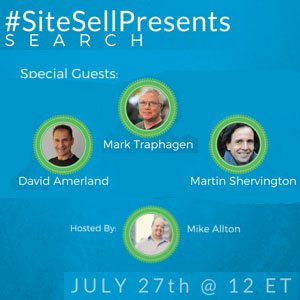 During next Monday's LIVE discussion, popular Social Media experts Jeff, Dustin and Rebekah, will share their insights about social media from their own unique experiences.
Guest Bios For This Week's LIVE Event
This week we are talking about Social Media and will be offering insights and discussion from Jeff Sieh, Dustin W. Stout and Rebekah Radice
** Jeff Sieh is the owner and Creative Director at His Design Inc., a multimedia company that he's run for over 12 years in Longview, Texas. He is also the creator and host of the Manly Pinterest Tips Show and Podcast. A show dedicated to adding testosterone, one pin at a time to Pinterest.
Follow Jeff: https://twitter.com/jeffsieh
** Dustin W. Stout is currently the Chief Marketing Officer of Weal Media. He is a web designer, branding enthusiast, blogger and social media junkie. Creativity is his fuel, social media is his game, and Jesus is his homie.
Follow Dustin: https://twitter.com/DustinWStout
** Rebekah Radice has been blogging since 2004 on one of the top social media blogs, rebekahradice.com - voted a "2015 Top 10 Social Media Blog" by Social Media Examiner. As a recognized leader and influencer, Rebekah has been featured on Social Media Examiner, Social Media Today, Steamfeed, 12Most and Alltop.
Follow Rebekah: https://twitter.com/RebekahRadice
--------------------------------------------------------------------------------
Full Schedule and Lineup: Event Schedule & Guest Presenters
SiteSell offers a free eCourse on Entrepreneurship that will help you recognize and overcome the most common fears that stop budding entrepreneurs: FREE Entrepreneurship Course
Make sure to RSVP, and feel free to share your questions on the Event Page as we will be pulling the best comments and questions into the broadcast for our panel to respond to.
If you want to make sure you don't miss any future shows, be sure to RSVP to this one, and we'll add you to a special VIP circle and invite you to all future shows.
Simply register for this event right here.... Event Registration